Hi everyone! It's Friday and I thought of something new and beneficial. I read an article online and I found it helpful so I wanted to share it with you.
The article was written by Joe Crosby from eHow.com.
SECRET 1: Your skin cleanser is making things worse (maybe).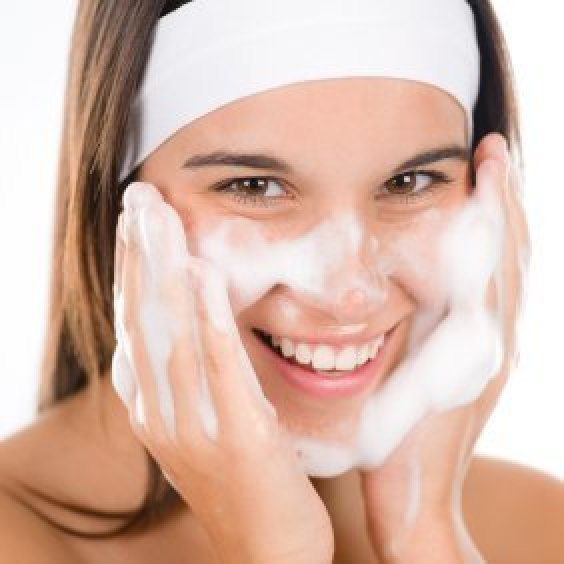 Photo from google
Cleansing can irritate even healthy skin, never mind sensitive or "problem" skin, and many cleansers are guilty. How then should you best cleanse without further irritation? The solution, regardless of skin type, is to look for a gentle cleanser that dissolves dirt and excess oil without leaving the skin feeling tight or tingly — nothing with detergents, alcohols, fragrances, irritants or ingredients that block pores. Think that means going natural? No. Among the list of irritants are lemon, mint, cinnamon and essential oils.
SECRET 2: Stop avoiding exfoliation; start glowing.
SECRET 3: Retinoids are the best things your aging skin isn't using.
SECRET 4: Want sweet skin? Try sweet scrub.
SECRET 5: The body scrub you haven't tried.
Faces often get preferential scrub treatment, while our poor bodies are neglected. From scuffed-up feet to dry, scaly skin on your legs, elbows and arms, our bodies can take a beating. Oftentimes, our daily "scrubs" (read: soap) are the culprit. There's an easy feel-like-new remedy, though. And it might be in your kitchen. Mix coconut oil, kosher salt or sugar, and some minced basil into a paste, and scrub away. Again, steam helps. But doing this regularly helps even more.
SECRET 6: Better soak for your mani and the post-pedi wrap.
Manicure: Soaking your nails is a given. How to do it better? Mix shower gel with the warm water and soak your hands in the solution for five minutes. Your newly soften and mani-ready cuticles will thank you. Pedicure: Even a pumice stone can't remedy all of the dry, gnarly foot problems from a full day on your feet. Try this: rub petroleum jelly on your feet and wrap them in cellophane. Leave it on for 15 minutes. Baby soft feet await.
SECRET 7: To hydrate the hair correctly, avoid the root.
Deep conditioning is obviously important to fight dry or frizzy hair. Whether you use a restorative conditioner or simple olive oil (pro tip: apply olive oil, sit in the sun), make sure you do it the right way. Start with the tips of your hair and work your way up to mid-shaft. But avoid your roots: the scalp produces natural oils to help on the near end of things. Conditioning treatments could prevent them from helping.
SECRET 8: That's not dandruff you're treating,
Dandruff shampoo is an oft-abused product. Why? Because what many people think is dandruff is simply a dry scalp. The latter is usually the result of not rinsing your hair properly or residue buildup from bad product. Dandruff shampoo can't treat that. If your "dandruff" isn't going away, try rinsing a bit more thoroughly or upgrading your hair product.
SECRET 9: Your short hair might make you look old.
Pixie cuts have been a mini-rage in the 'do world over the past few years. But take heed: Cutting your hair too short could be risky if you're trying to maintain a youthful look. Having a little visible hair behind the ear will soften your neckline and, thus, the age you appear.
SECRET 10: Ask for a cut, but don't talk inches.
I hope you found it very helpful. You can read the full article
here
.
Have a great weekend everyone!